Board of Directors Meetings
Wednesday, May 24, 2023
The Board of Directors will host two meetings on Wednesday, May 24:
Regularly Scheduled Monthly Board Meeting – 8:45 a.m.
Our regularly scheduled monthly Board Meeting to discuss ongoing business, with virtual public attendance allowed starting at 8:45 a.m.
To attend this meeting, for all non-rate-change related topics, please register here.
Rate Change Public Comment Session – 1:00 p.m.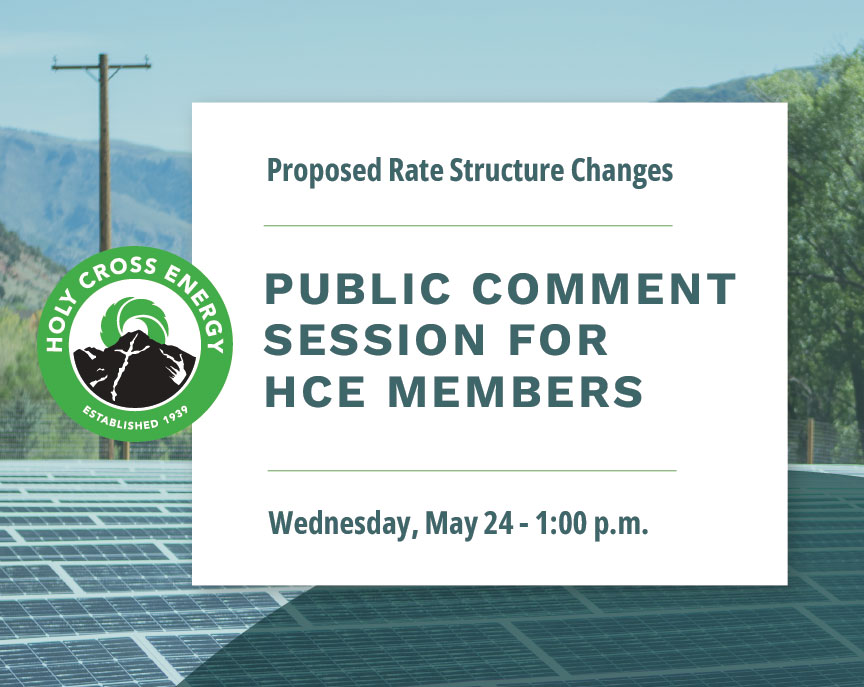 The second meeting will be a public comment session for the Board to listen to feedback related to the rate and tariff changes that are proposed to take effect in September 2023. This meeting will have an in-person option at our Glenwood Springs headquarters, a virtual option, and will be recorded for later viewing.
2023 Board meeting dates, agendas and minutes
HCE Board meetings are typically held the third Wednesday of each month, however these dates are subject to change.
January 18, 2023 – [Agenda][Minutes]
February 15, 2023 –[Agenda][Minutes]
March 15, 2023 – [Agenda] [Minutes]
April 20, 2023 – [Agenda] [Minutes]
May 24, 2023 – [Agenda] [Minutes]
Rate Change Public Comment Session – May 24, 2023 – [Agenda] 
Annual Meeting – June 15, 2023 – [Agenda]
June 21, 2023 – [Agenda] [Minutes]
July 19, 2023 – [Agenda] [Minutes]
August 16, 2023 – [Agenda] [Minutes]
September 20, 2023 – [Agenda] [Minutes]
October 18, 2023 – [Agenda] [Minutes]
November 15, 2023 – [Agenda] [Minutes]
December 20, 2023 – [Agenda] [Minutes]