Charge at Home. Charge at Work. program reduces transportation emissions while saving members money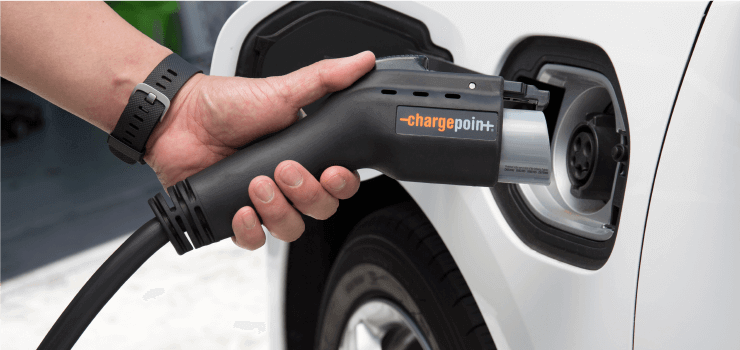 GLENWOOD SPRINGS, Colo. — Feb. 19, 2019 — In its ongoing commitment to leading the responsible transition to a clean energy future, Holy Cross Energy (HCE) is now providing free Level 2 electric vehicle (EV) chargers to its members and offering a 36-month service agreement that will allow them to pay for the installation of those chargers without an up-front cost.
HCE's new "Charge at Home. Charge at Work." program offers Level 2 chargers, which provide a faster charge than simple plug charging, and include timers which can be set to take advantage of off-peak rates for lower-cost charging of EVs for members. Under this new program, HCE will also pay up front for a professional installation as well as for ongoing maintenance of the installed EV chargers, recovering those costs through a 36-month fixed charge on the member's bill. HCE will provide up to 2 EV chargers per residence and up to 4 EV chargers per workplace under this new program.
According to Bryan Hannegan, HCE President and Chief Executive Officer, the new HCE program aims to accelerate the electrification of transportation in the region, taking advantage of HCE's commitment to 70% clean energy by 2030 through its seventy70thirty plan announced last September. "By using HCE's increasingly clean and affordable electricity to fuel their electric vehicles, our members will be able to help further reduce their emissions from transportation while also saving money on their fuel bills," Hannegan said.
In addition to the Charge at Home. Charge at Work. program, HCE is working with the Colorado Energy Office and local partners to identify ideal locations for DC Fast Charging (DCFC) stations, including offering funding for infrastructure upgrades for stations in key community locations and assistance with applying for grant funds.
The Charge at Home. Charge at Work. program is effective as of February 18, 2019. Residential members can visit Charge at Home, while commercial members can visit Charge at Work to find out more about HCE's charging solutions.
About HCE
Founded in 1939, Holy Cross Energy is a not-for-profit rural electric cooperative that provides safe, reliable, affordable and sustainable energy and services that improve the quality of life for more than 43,000 members and their communities in Western Colorado. We are committed to leading the responsible transition to a clean energy future.