SMALL CHANGE THAT CHANGES LIVES
A little change can make a big difference. By rounding up your energy bill to the nearest dollar, you can help support local families in need and the organizations that serve them. We match every cent you contribute to make your gift go even further. By joining Round-Up, the most you'll ever donate in a year adds up to $11.88. That's small change, but together, it adds up to make a big difference.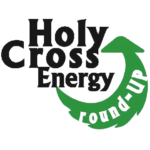 Apply for Round-Up Funding
How does Round-Up work?
Our Round-Up program is completely voluntary. You can sign up whenever you like by giving us a call or filling out the online registration form. The spare change we collect by rounding up our members' bills is then given to local community organizations that focus on supporting families in need in our community. When we all pitch in, your small change, an average of 50 cents per month, adds up fast and can do good.
Say your electric bill for the month is $40.50.  As a "Round-Up" participant, your bill is automatically "rounded up" to $41.00.  Holy Cross members may choose to donate a fixed monthly amount in addition to having their bill "rounded up".  All donations are tax deductible and will be reported to you on an annual basis.
Where does the Round-Up money go?
All Round-Up contributions are administered by a separate Board of Directors responsible for distributing funds raised through member participation.  Holy Cross Energy covers all administrative costs of the program to ensure that 100% of donated dollars are distributed to community and charitable causes.
Why do we do it? 
It started as a simple idea 27 years ago at one co-op in South Carolina. Just round up the co-op member's electric bill to the next dollar, and then use it to do good work in your community. Today, hundreds of electric co-ops throughout the country, including Holy Cross Energy, use this idea to help members and organizations close to home.
All co-ops adhere to the seven cooperative principles, including "Concern for Community." The Round-up program is the perfect embodiment of this core principle. The average co-op member donates $6 with a maximum possible contribution of $11.88 per year. This may not seem like a large amount, but with over 2,000 members participating in the Round-Up program, it adds up to make a significant impact.
Each co-op decides how they want to operate the program, and the vast majority is governed by a board of volunteers that is different from the board of directors for the electric co-op. This ensures that the decisions are made in the best interest of the community.
Thank you to our members who are rounding up their bills and contributing funds to the Holy Cross Energy Round Up Program.