Billing options
Having trouble paying your bill? We have several options available to members to help you stay on track and on time with your payments
Pay now online.
Easy and secure bill pay with no registration required. All you need is your account number and last name or business name.
Set up auto-pay.
Enjoy the convenience of having your bill automatically paid each month from your bank account or debit card.
Pay by phone.
Call 1.877.833.2555 to make a payment by phone.
There is $5.00 minimum charge for phone payments.
You will be given the option to set up automatic credit card payments, which can be set up immediately with no additional verification.
Pre-pay.
With Pre-pay, you have the opportunity to pay when you want, in the amount you want. As a Pre-pay member, the normal security deposit is not required and there are no collection fees or monthly bills. You can check your electric use daily and take control of your power use. For more information call a member service representative at 970.945.5491.
Pay by mail.
You can mail a check or money order to:
Holy Cross Energy
PO Box 2150
Glenwood Springs, CO 81602
Pay in person.
Our offices are are open for in-person visits with our Member Services Representatives:
New!

Pay with cash at local retailers.

Vanilla Direct
Accepted at many local convenience stores, grocery stores, and local retailers, scan the Vanilla Direct barcode to pay your bill with cash. Participating retailers include: Dollar General, Family Dollar, 7-11, Kum&Go, Walmart, & Walgreens. The retailer charges $1.50 for this service

Western Union Quick Collect
The Western Union Quick Collect service allows you to send payment on the day your bill is due and receive proof of payment in minutes. Go directly to the counter and provide:
Your phone number,
The name of the company you wish to pay ("HOLY CROSS ELECTRIC"), and
Your HCE account number.
Participating retailers include: City Market, Walgreens, Walmart, & Safeway. The retailer charges $1.50 for this service.
When searching for participating retailers, the "Quick Collect" filter must be selected.
Manage your account online with SmartHub.
SmartHub is our account management tool that allows you to manage all aspects of your HCE account. You can pay your bill, view your power usage data, report an outage, and set up notifications. SmartHub also allows you to manage your account from anywhere, anytime using your mobile device. The SmartHub Mobile App is free and available for iOS (iPhone, iPad, iPod) and Android devices.
Tell me more about SmartHub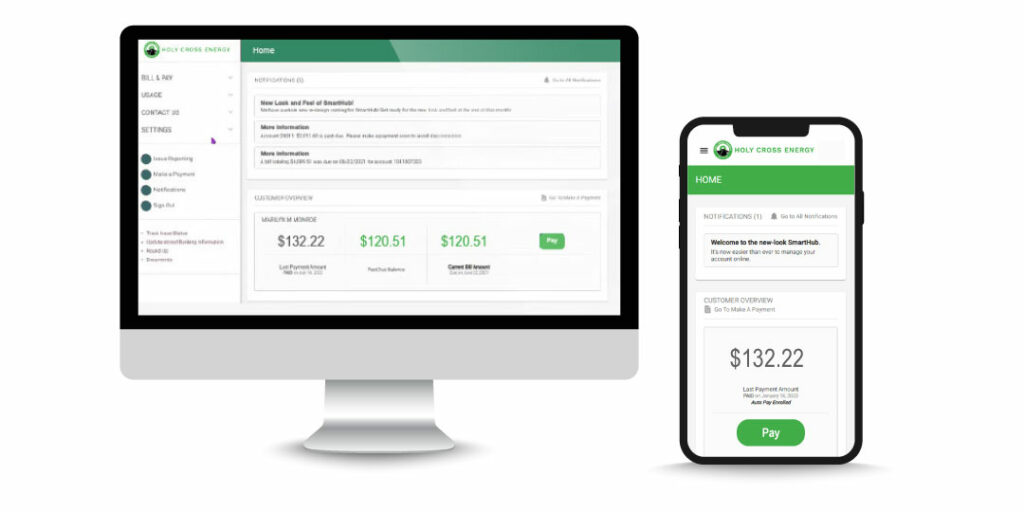 Switch to paperless billing.
Get your bill faster and help save trees by switching to paperless billing today. In SmartHub, click on "Paperless Billing" under the Setting tab, then toggle the switch to "Go Paperless".

Our member care representatives are ready to help with any questions you may have.