We're featuring our partners who help contribute to Holy Cross Energy's goals and are leaders in the areas of sustainability and climate action. We recently chatted with Bobby Ball, owner of Ball Brewing in Glenwood Springs, about how they are doing their part to support a clean energy future.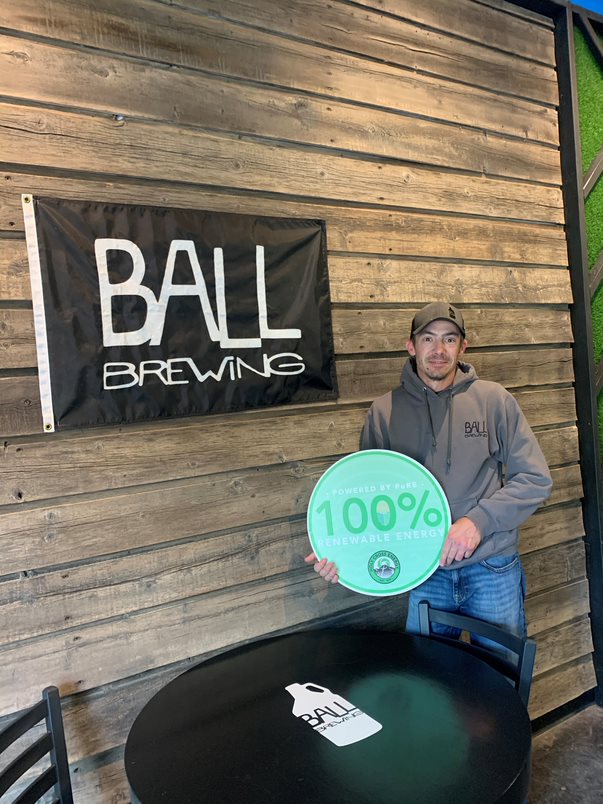 Tell us about Ball Brewing
Ball Brewing opened our doors in February, 2020 right before the pandemic. We take a lot of time crafting our recipes to focus on making many styles of beers that showcase the drinkability of a lot of different types of craft beer. I started out as a craft beer fanatic, then a homebrewer, and then the time was right so we jumped in feet first at the spot and started working from there.
What is Ball Brewing currently doing to make sustainability and climate action a priority?
We're happy to be part of PuRE, HCE's 100% renewable energy program. It does cost us a bit more money, but we decided as an organization that it's important to us and we wanted to do our part to make the environment better.
We also had an energy audit performed by HCE that identified a few areas that our operation that can be more efficient. It was nice to see we were ahead of the curve on a lot of things, but there isn't a magic bullet, per se, but a few tweaks here and there. We recently upgraded our system – we used to produce two kegs a day and now our equipment can handle up to 20. What used to take six weeks now takes about eight hours.
We knew we wanted to upcycle as much décor and equipment as we could. We found wood from a burn pile up Cattle Creek to make some of the wood paneling on the walls, and got tables and other décor from the Habitat Restore located right across the street from us. We bought our cold storage second-hand from a going-out-of-business sale and the leftover grain from our brewing process is going to a local farm. We really try to give things a second life around here.
What would you tell other small businesses who are wanting to be more energy efficient?
I think just reaching out to others (like HCE!) and finding ways to help everyone in the community so we can all work together towards a common goal. It's fun being creative and branching out and talking to other people about how we can all be better stewards of this incredible landscape.
So where can we find a beer around here?
Ha! In addition to our tap room off Highway 82, we are distributing to a few places around the Roaring Fork Valley: New York Pizza, Slow Groovin' BBQ, and a number of private events and parties. We're slowly pacing ourselves to make sure we can handle the growth.
If you've managed to read this far, Ball Brewing will take a dollar off your next pint if you mention this article when you stop in. Cheers!