A Net zero, all-electric community
Basalt Vista Affordable Housing Partnership will provide affordable home-ownership opportunities for teachers and other families in our local workforce, in need of affordable homes. Led by Habitat for Humanity of the Roaring Fork Valley, Basalt Vista will provide 27 families with all-electric, energy- efficient homes, located on the hillside behind Basalt High School in duplexes and triplexes. With NO natural gas line in the community; this is the first all-electric Net-Zero community in rural Colorado.
The homes will be affordable-to-buy, thanks to a community collaboration that will heavily discount the prices of the homes and favorable financing, with mortgage assistance from several sources.
Further, the homes will be affordable-to-operate, thanks to the Net-Zero all-electric powered community.  The homes will generate as much electricity as they use; meaning, homeowners will have a minimal electric utility bills (likely to be at least 85% less than a typical electric bill).
The efficient heating and cooling systems and water-heating systems will feature electric technology that is compatible with the renewable energy that is generated on-site. In addition, state-of-the-art efficient appliances are being utilized: "smart" clothes dryers and induction stove-tops.
The overall efficiency in the homes will be achieved by: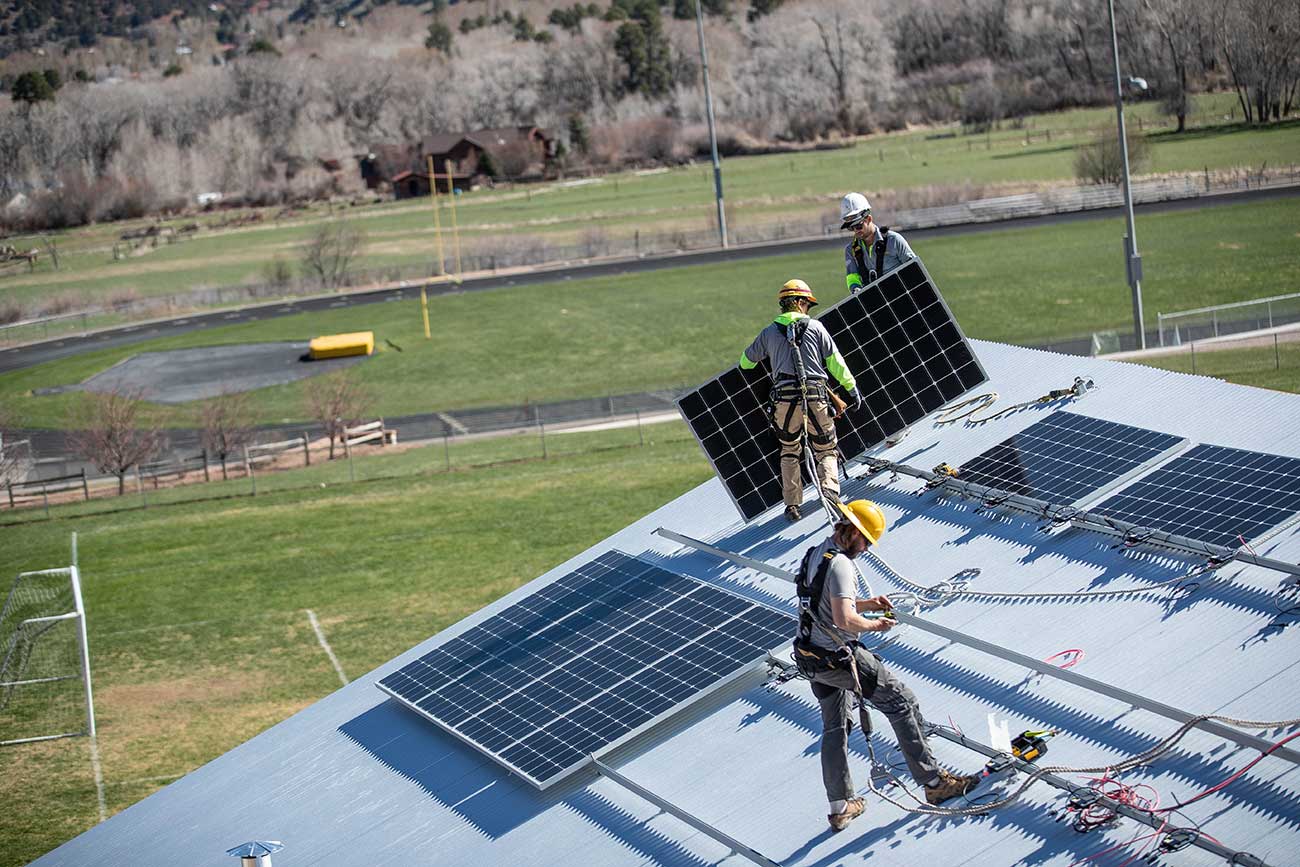 Beneficial electrification– These homes will replace direct fossil fuel use (e.g., propane, natural gas and wood) with electricity in a way that reduces overall emissions and energy costs.
High-Performance Building Envelope– the air-tight well-insulated wall and roof assemblies, as well as energy-efficient windows / doors, are key first steps in optimizing energy use.
On-Site Energy Production– These buildings will produce as much energy in a year as they consume; thus, the homes will be Net-Zero. The energy production will keep energy costs as low as possible, while using the grid as a storage system as needed.
Holy Cross Energy (HCE) "Live Learning Lab":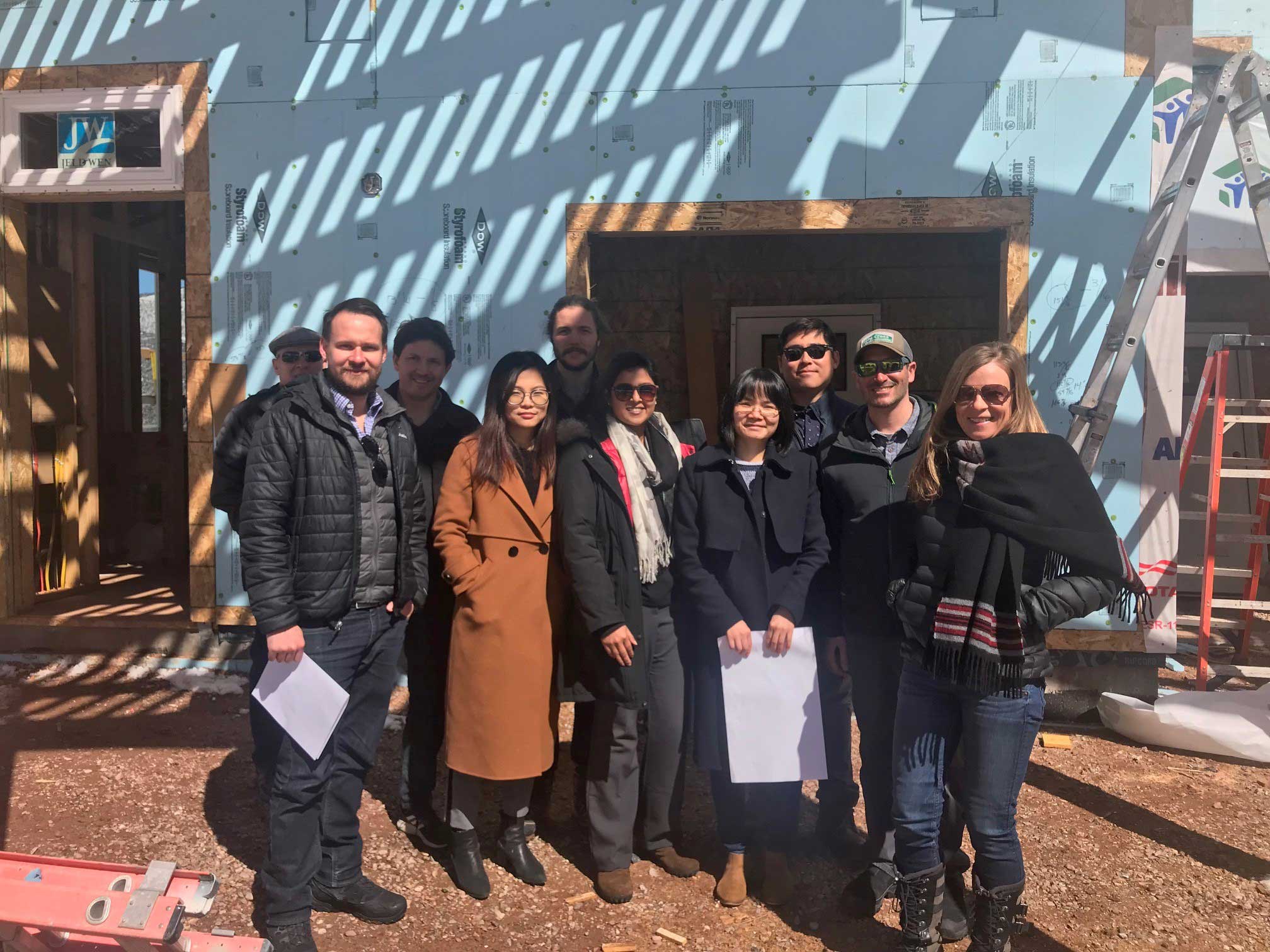 Overall, HCE has committed to help make this new pioneering housing community a showcase neighborhood, providing a template for building affordable, Net-Zero energy communities.
In the first four homes, for a four-month field deployment, HCE will conduct a study hoping to prove how adjusting energy levels provided by solar arrays and battery storage at a home can be more cost-effective than modifying energy production at a centralized power plant. HCE hopes to learn how to save its members money by reducing the amount of energy they need to pull from the grid during peak periods. (Electricity rates are higher during peak periods.) Any adjustments HCE would make to energy levels used in a home will go unnoticed by homeowners.
Typically, rooftop solar systems are producing power during the sunny hours of the day and pushing that power back to the utility – at a time when the utility does not need that power. Using smart controls and on-site storage systems, our homes can start to play a more important role for the utility by storing some of that excess energy during the day, then releasing some power back to the grid when it is actually needed.
Planning future power-grid infrastructure– HCE believes that gathering the data from the learning Live Learning Lab, in the first four homes, will prove out the theory that it can be financially more attractive ("cheaper") to vary consumer demand than it is to adjust power plant production. This means that homes will need to get a lot smarter, if they are to be a meaningful part of a future 100% renewable energy grid – and that does not just mean having Alexa turning your lights on and off.
Partnership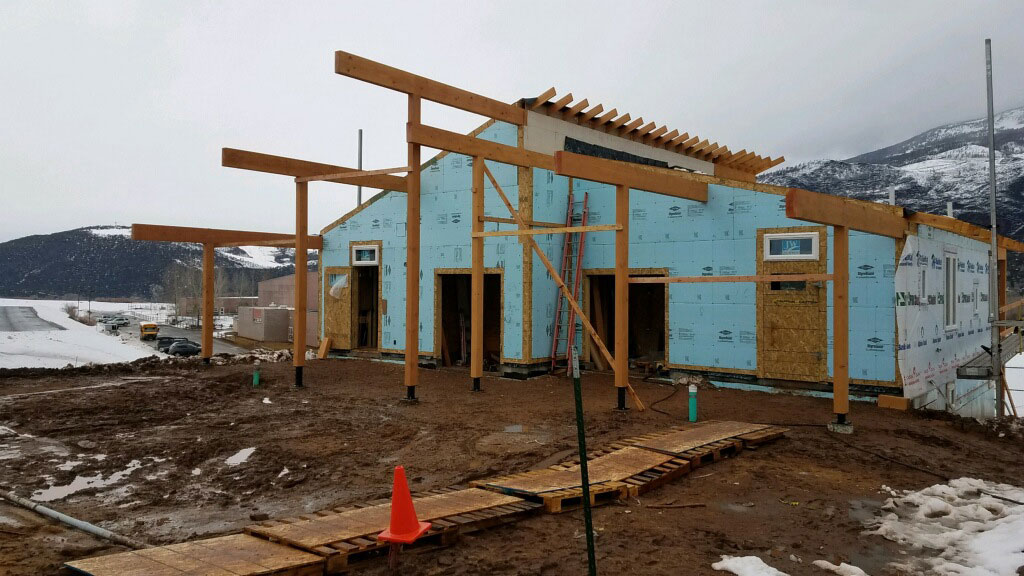 Thanks to unprecedented partner collaboration, Basalt Vista will be truly affordable for the families.
The Roaring Fork School District donated the land. (Valued at $3,200,000).
Pitkin County funded the infrastructure (road and utilities). ($3,000,000).
Habitat for Humanity is serving as the developer. Habitat will be raising funds to cover the gap between the cost to build the homes and the revenue from the purchase prices. Habitat will also be facilitating access to mortgages, and a range of mortgage assistance.
Community Office for Resource Efficiency (CORE) helped fund the high efficiency cold climate heat pumps and photovoltaic systems. CORE also provided funding for the study and design of the energy systems on the project. (Total grants to date: $107,500).
HCE has donated smart inverters, PV inverters, EV charger hooks-ups, hot water heaters and controllers as well as loaning batteries for the first four homes. Plus, HCE will contribute at least $50,000 in energy efficiency rebates and rooftop solar rebates, for the additional homes after the first four homes, that are in the "Live Learning Lab".
Bryant Colorado is providing the heat pump units at heavily discounted prices.
Sunsense Solar, a long-time Habitat for Humanity partner, is installing the solar at a discount.
The Town of Basalt reduced fees and contributed $30,000 to help get to Net-Zero.
LG is providing solar panels at discounted prices, enabling savings of $20,000.
Private donor support- A donor has paid for new specialized pots & pans for the super-efficient induction stove-tops.