2021 Board of Directors Election
Together, we can lead the responsible transition to a clean energy future
Notice of Annual Meeting of Members and Right to Nominate Directors
Annual meeting of members
The Annual Meeting of Members of Holy Cross Energy (HCE) will be held at 6:00 p.m. on Thursday, June 10, 2021 at the Spring Creeks Ranch, 644 Cowen Dr., Carbondale, CO., 81623.
Right to nominate directors
Three directors will be elected at this meeting: Two Directors from the Northern District and one Director from the Southern District.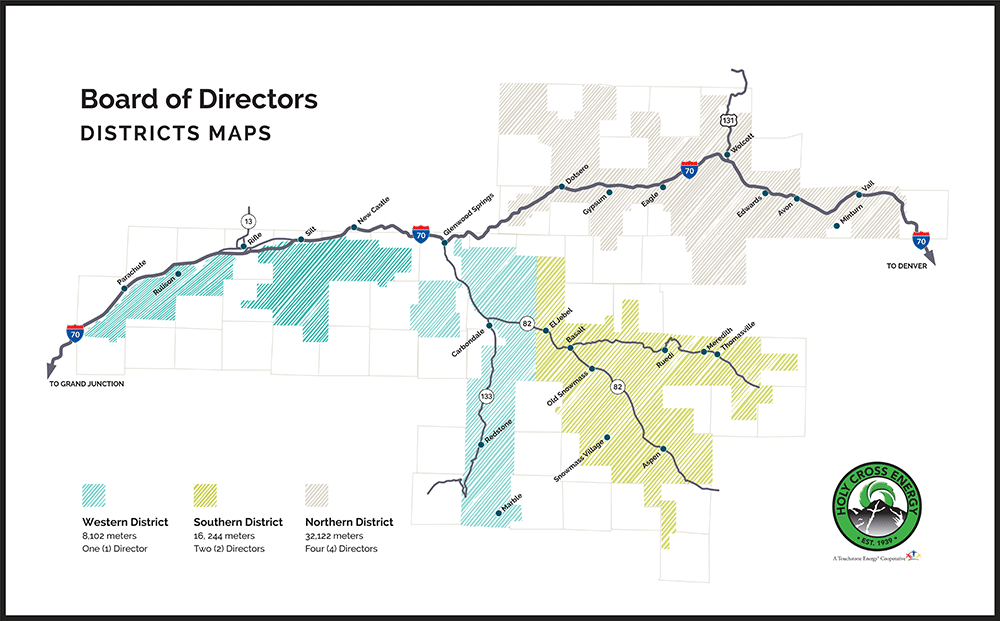 Nominations may be made only by petition signed by 15 or more members who reside in the district for which the Director seat nomination is made. Signatures may be captured electronically. Each petition shall nominate one and only one candidate for a Director position. Nominees must be a member of HCE, have been a member of and received electric service from HCE for at least two years immediately prior to May 31, 2021, and receive electric service at their primary residence within the district he or she is to represent. Official petition forms shall be available beginning at 8 a.m., Monday, February 22, 2021, at the HCE offices in Glenwood Springs and Avon and online at HolyCross.com/Elections.
Nominating petitions must be filed with HCE offices in Glenwood Springs or Avon or online at HolyCross.com/Elections on or before Friday, April 16, 2021.
Jenna Weatherred VP, Member & Community Relations
Holy Cross Energy 3799 Highway 82, PO Box 2150 Glenwood Springs, Colorado 81602
It is important to review HCE's Bylaws and the corporate policy regarding Voting and Elections prior to applying. Both documents can be found in our bylaws. Our bylaws can be found at holycross.com/bylaws/ and our policies are located at holycross.com/policies/. The following is an overview of board member qualifications, time commitments, responsibilities and compensation. The overview can also be viewed or downloaded via PDF.
The HCE Bylaws, Article IV, Directors, Section 2 addresses director qualifications in detail. Please review the bylaws and, specifically, this section carefully. A director candidate must comply with many general qualifications/requirements including:
You must be a member of HCE for at least two years prior to election as a director.
A director must permanently reside and use electric energy provided by HCE at a residence within the director district from which you are nominated.
Attend at least 10 of the 12 monthly meetings of directors within any 12-month period.
Once becoming a director, obtain a Credentialed Cooperative Director (CCD) designation within three years of becoming a director. The CCD program is a basic, five-day training/educational program for new directors, provided through our national trade organization. The CCD classes can be taken one day at a time or all five at once at locations within the United States.
Once you are elected as a director, you are expected to:
Attend 12 regular, monthly board meetings, usually scheduled on the third Wednesday of each month starting at 9 am. Meetings sometimes last six or more hours. Approximately eight of the meetings take place at the HCE Headquarters facility in Glenwood Springs, with four meetings, one each quarter, held at HCE's Cooley Mesa facility near Gypsum.
Prior to each board meeting, each director receives an electronic board meeting packet containing a meeting agenda, financial reports, staff reports, and accompanying information. Directors are asked to prepare for each board meeting by reviewing the information contained in the packet.
Attend the annual meeting, usually held in June on a weekday starting around 5 pm. The location of the annual meeting alternates between the Eagle and Roaring Fork river valleys.
Participate in committee assignments.   Committees usually meet once per month for three hours or so. Scheduling and location are up to the Committee chairman and have been held in Glenwood Springs, Gypsum, and the HCE Avon facility.
Directors have the opportunity to attend educational programs as well as State and National trade association meetings. Many of which are two to three days in length and require travel and lodging.
Directors also may wish to attend or participate in consumer/member-related meetings and events within HCE's service territory.
Being a board member of an organization with annual revenues exceeding $135 million, employing 165 employees, and providing an essential service to nearly 60,000 locations over 3,000 miles of electric line is a significant responsibility involving:
A fiduciary duty to act in good faith, exercise care, and act in the best interest of HCE.
Setting the organization's mission and purpose, engaging in strategic planning, selecting and supervising the chief executive officer, selecting a corporate attorney, and overseeing an annual financial audit.
Review, monitor and report to the membership regarding critical operating and financial performance.
Provide oversight, adopt policies, monitor compliance with legal and regulatory requirements, and ensure adequate internal controls.
Act in a professional manner and exercise confidentiality.
Develop as a director through educational and training opportunities.
Each member of the Board of Directors receives compensation for their involvement with and time spent carrying out their duties as directors. Generally, the compensation is as follows:
A monthly fee of $1,000.
A fee for attending board meetings, committee meetings, the annual meeting, educational or training programs, etc. of $500 for each full day (more than four hours) and $250 for each partial day (four hours or less).
Reimbursement for mileage at the IRS rate for travel to and from board meetings, committee meetings, the annual meeting, educational/training programs, etc.
Reimbursement for registration fees, lodging, travel, meals, etc., for attending approved meetings and events.
This general overview only covers the high points of some of the components of being a Director of Holy Cross Energy. Should you have any questions, please contact Jenna Weatherred at 970-947-5470 for more information.
Menu