2023 Holiday card contest / Concurso de tarjetas navideñas 2023
Please mail your artwork and submit entry form by November 15. 
You are invited to submit your original artwork to be featured on the 2023 Holy Cross Energy holiday card!
HCE is your local electric cooperative serving almost 50,000 members in the region.
Create a design showcasing the spirit of the holidays. The winning design from each county in our service territory: Pitkin, Eagle, and Garfield, will be used as the cover for our holiday card and featured in our January Member Connections newsletter.
Educators! The school of each of the three selected student artists will receive $100 towards the art department.
Show us your holiday spirit!
Guidelines:
Open to elementary students in Pitkin, Garfield and Eagle counties.
Artwork needs to be standard printer paper-sized (8.5×11"), in a portrait orientation (not landscape)
Artwork will be selected by HCE's staff and based on creativity in interpreting the theme.
Artwork should be visibly signed.
A completed form will need to accompany the artwork.
Artwork must be mailed by November 15 to:
Maisa Metcalf
Holy Cross Energy
P.O. Box 2150
Glenwood Springs, CO 81602
HCE can also arrange to pick up artwork from your school. Email Maisa Metcalf at mmetcalf@holycross.com to schedule a pick-up.
Envíe su obra de arte y envíe el formulario de inscripción antes del 15 de noviembre.
¡Está invitado a enviar su obra de arte original para que aparezca en la tarjeta navideña de Holy Cross Energy 2023!
HCE es su cooperativa eléctrica local que atiende a casi 50,000 miembros en la región.
Crea un diseño que muestre el espíritu de las fiestas navideñas. El diseño ganador de cada condado en nuestro territorio de servicio: Pitkin, Eagle y Garfield, se usará como portada de nuestra tarjeta navideña y aparecerá en nuestro boletín de Member Connections de enero.
¡Educadores! La escuela de cada uno de los tres estudiantes artistas seleccionados recibirá $100 para el departamento de arte.
¡Muéstranos tu espíritu navideño!
Directrices:
Abierto a estudiantes de primaria en los condados de Pitkin, Garfield y Eagle.
Las ilustraciones deben tener el tamaño de papel de impresora estándar (8.5 × 11 "), en orientación vertical (no horizontal)
Las obras de arte serán seleccionadas por el personal de HCE y se basarán en la creatividad al interpretar el tema.
Las obras de arte deben estar visiblemente firmadas.
Un formulario completo deberá acompañar a la obra de arte..
Las obras de arte deben enviarse por correo antes del 15 de noviembre a:
Maisa Metcalf
Holy Cross Energy
P.O. Box 2150
Glenwood Springs, CO 81602
HCE también puede hacer planes para recoger obras de arte de su escuela. Envíe un correo electrónico a Maisa Metcalf a mmetcalf@holycross.com para programar una recogida.
Entry form / Formulario de inscripción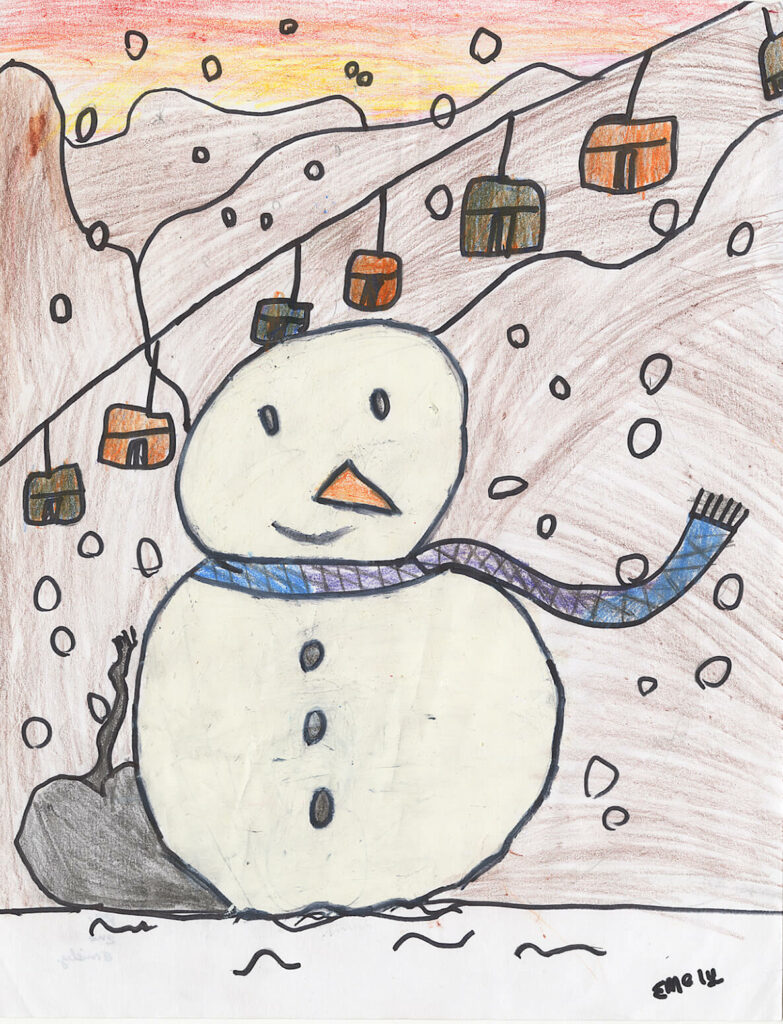 Congratulations to our 2022 winner!
The winning artwork comes from Emely Lopez Esperanza of Basalt Elementary. Emely's drawing was featured on the front of the 2022 Holy Cross Energy holiday card!
All participating schools received a donation from Holy Cross Energy to the school's art department.